How to perform Iridium Extreme Firmware Update
To check your firmware version please perform the following actions: 1. Power on the Iridium Extreme. 2. Press the "Menu" key. 3. Scroll down to and select "Setup." 4. Scroll down to and select "Phone Information." 5. If your phone displays a version below HL15002 proceed to the upgrade instructions below. Prior to performing the upgrade complete the following: o Disable Bluetooth on the PC running the upgrade o Remove the SIM card from the handset and install the handset battery Iridium Extreme Firmware Update The firmware upgrade must be performed on a Windows 7 or higher PC. 1. Download the firmware file from here: http://www.safa-telecom.com/wp-content/uploads/2014/12/Firmware_IRIDIUM_Extreme_HL15002.zip 2. Unzip the downloaded folder to your Desktop. 3. From your Desktop (or other download location) double click on the "Iridium Extreme Software Upgrade HL15002 Installer" icon
4. Click on "Run."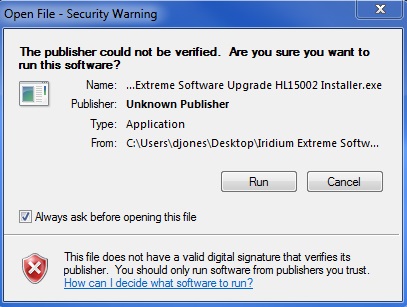 5. Windows User Account Control (UAC) might ask you to allow the program one more time, click on the "Yes" button to continue. 6. Click on the "Next" button.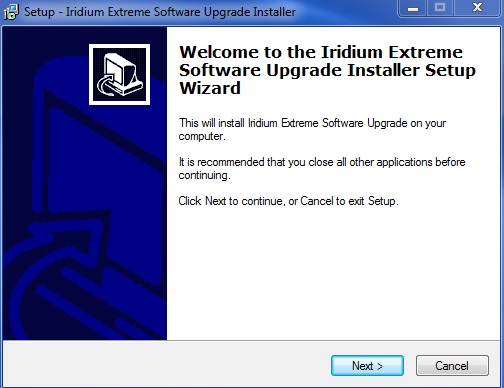 7. The installer will complete the installation. Click on the "Finish" button.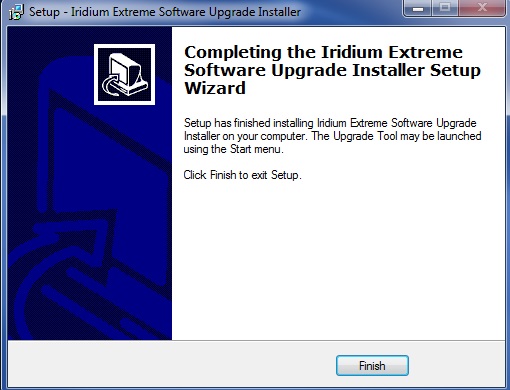 8. At this point you will now want to power on the Iridium Extreme handset. You will also need the charging block and USB cable.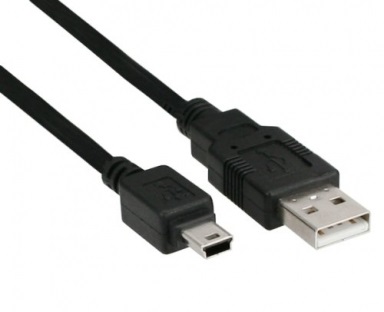 9. Connect the Iridium Extreme to your computer via the USB cable. Make sure the battery is fully charged before performing the upgrade. You can also connect the AC charger to the charging block while performing the update. o If the handset is being connected to this PC for the first time, or to a USB port that has not been used before, the driver will be installed automatically. If this is the case, wait for Windows to show the "New Hardware Installed" notification before proceeding. o If Windows is unable to automatically locate the USB driver, it can be found at C:\Program Files\Iridium\Extreme\USB \VCOMPORT. 10. The update program can now be opened from the Start menu. For Windows 8 users, press the Windows key on your keyboard and type in "Iridium Extreme Software Upgrade Tool" and then click on the icon to launch the program. 11. The upgrade tool will launch.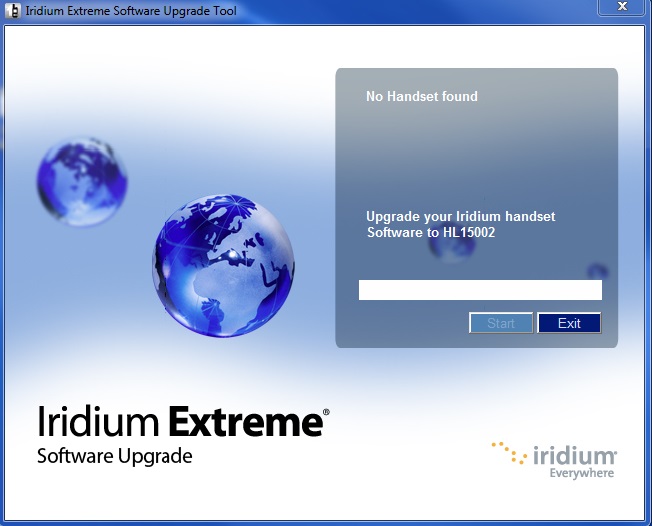 12. The software will see your phone. Click on the "Start" button. Note: it may take up to 30 seconds to find the handset.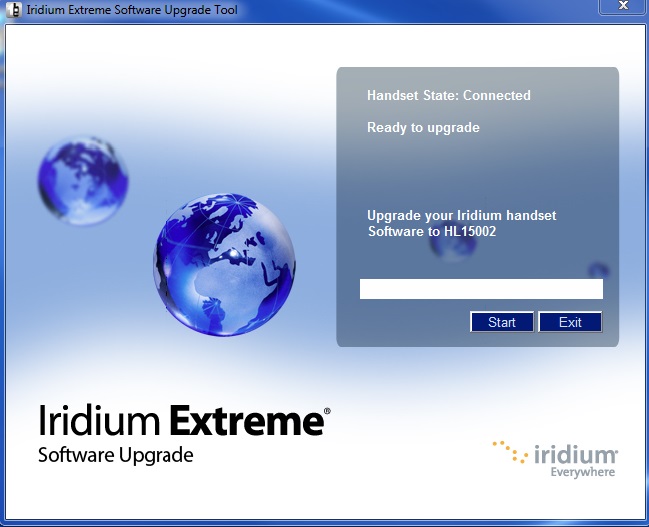 13. The upgrade will completed after approximately 15 minutes.